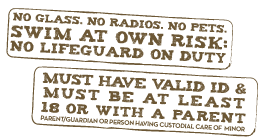 All visitors must have a valid ID and be at least
18 years old or accompanied by a Parent*.
*Parent/Guardian or Person Having Custodial Care of Minor.
CASH ONLY
No glass, no radios, and no pets.
Safety:
No Diving; No Disorderly Conduct; No Firearms, Fireworks, Bicycles or ATV's.
Please do not drive unnecessarily in Paradise Canyon. Enjoy walking to the rest rooms or to go fishing—we all need the exercise.
No trespassing across the river. Stay off the dam and 300 feet away from it at all times.
Don't move tables or rocks.
Fires in fire pits only.
Clean Up:
Everyone is responsible for cleaning up after themselves and taking their own trash to the dumpster. If you read this part, we may let you have a free something or 'nother.
Vehicle Rules:
The speed limit is 5 mph. No radios on at any time, even in your vehicles. Park only within the boundaries of the parking area defined by rocks (don't move the rocks to park where you want!). NO TRAILERS, and if you bring one by mistake (you forgot it's back there), we'll charge you an extra carload fee — we are very limited on parking space… that's why we charge by the carload.
Camping Rules:
Campers are allowed to bring their own firewood. OAK firewood is not allowed. Do not cut or deface any trees and/or branches on the property.
2 vehicles allowed per campsite
2 tents allowed per campsite
At least get your toes wet in the river. Violators will be asked to go to a place where the water is chlorinated.
11 p.m. is "Lights Out/Quiet Hours": No loud talking, bright lights, or driving. The emergency phone is on the registration counter.
No alcohol consumption after 11 p.m. This is a family-oriented campground, not a bar! Get some rest!
No generators allowed! They are way too noisy and can be heard by the catfish in the bottom of the river one mile downstream.
If you've read down to here, you may get a free pickle!
When violating any of the rules shown above, we will smile and ask you not to do that again.  If seen violating another rule, we'll say, "We don't have to have the gates open, but we enjoy sharing it with folks, so obey the rules please or please leave." Finally, if seen violating another rule, we'll call the Medina County Sheriff deputy that lives around the corner, and then we'll shake our heads and wonder why folks come to Paradise Canyon to not have a safe, good time and not cause anybody any trouble. Then again, maybe we'll call the deputy first thing. But enough with all of that; remember the comment about free pickles? I'd much rather be smiling handing you a free pickle. Rates and availability subject to change.
Day Use Picnicking:
$30 per carload/weekday (limit 5)
$35 per carload/weekend (limit 5)
$3 per person for more than 5 people over 2 years old
We are a family-oriented place; all guests under 18 years of age must be accompanied by a parent/guardian.
Day-use areas can be reserved in the 200s, 300s, 400s, and 600s. Day-use reservations are only held until 11 am on Saturday and Sunday till 1 p.m. ($15 reservation fee for each table & $20 reservation for each table on major holidays)
Camping & RV Camping:
Camping by RESERVATION ONLY Friday and Saturday nights.
We will select a site for you upon arrival. Camping spots are the 000s, 100s, and 500s.
$55 per carload/day (limit 5)
$5 per person for more than 5 people over 2 years old
Tents: Limit 2 tents per site.
RV's (small pop-ups and bumper pulls): $60 with power and water close by (septic dump station available).
Check-in: 7–9 p.m. Check-out is by 6 p.m. the following day.
Arriving early? A pro-rated daily rate will apply. Early arrival is subject to availability.
Gates close at dark or 9 p.m. No one is admitted after the gates close. Late arrival fees apply if you arrive after  9 p.m. Please call ahead if you want in! No coming and going after gates close, except emergencies.
We are a family-oriented place; all guests under 18 years of age must be accompanied by a parent/guardian.
Space is limited: Call or email at least two days in advance to get your site locked in!
Fishing:
State Fishing License Required.
Bass: Catch and release ONLY.
We'd like to take a picture of your fish at the end of the day.
You never know, you may make the website!
Cabins:
Rates:
$155/night (2 night minimum)
$165/night for holiday weekends (2 night minimum)
Call for availability and to make reservations.
Guests are responsible for all bed and bath linens.
Check-in: 4 p.m.
Check-out: Noon
No Smoking. No Pets.
Rentals:
Single tube: $7
Double tube $12
Life jackets: $5
Raft: $30 for large, 4-person raft
Kayak: $20 for 1-person kayak
Extra folding picnic table: $10
We reserve the right to refuse service to anyone.